Made from the Finest Timbers, Premium, Luxurious
Timber roof lanterns are one of the most popular choices for roof lanterns, due in part to the strength and appearance of timber as well as the cost. Timber is one of the cheaper hardwoods but still of very high quality. Here at Prestige Roof Lanterns we use the finest handpicked timbers to use in the joinery to manufacture a product to high standards.
Timber Roof Lantern Photos
Below are some pictures of our timber lanterns, you can view all the pictures by going to the full gallery.
Above are just some of our timber roof lanterns, each lantern above has been styled exactly to customer specifications. You can pick any shape, style and colour for your timber lantern.
Prices / Costs of Timber Roof Lanterns
Our timber roof lanterns are styled to customer specifications. If you have requirements for a roof lantern we'll cater for them however, the costs have to be generated from a basic brief. We can give you a free quote for a timber roof lantern price based on your size, shape and style requirements.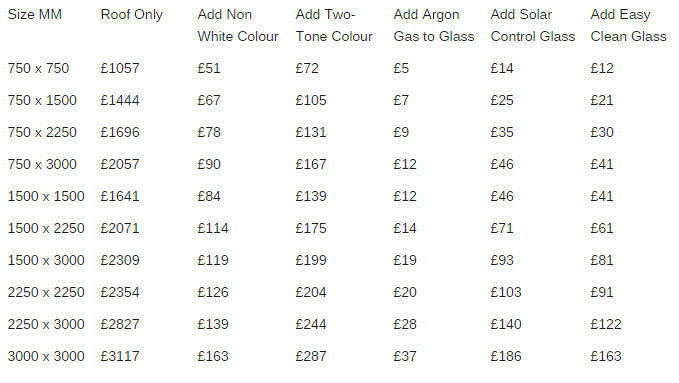 Specifications
Our timber roof lanterns are manufactured to high standards with specifications to match, generic specifications are below (specification relative to design).
Available in all standard sizes and non standard sizes (750mm x 750mm smallest)
Made from FSC sourced timbers that have been treated
Colour matching service and wide colour range from Farrow & Ball
Rafter sections from 44mm, Hips from 56mm in width
Roman Ogee3 detail moulded into undersides of timber section
Timber Dovetail Systems
Painted with Microporous Paint
Wide Choice of Finials and Crestings
Choice of Glazing Options (Standard 28mm Double Glazed Argon Filled Units) with U-Value of 1.1W/m.
Optional Self Cleaning Glass
Range of Blinds & Solar Control units
Brochures
Download Gaskets Specification Brochure
Download Saint Gobain Glass Brochure
Download Pilkington Glass Brochure
Download Ironmongery Options Brochure
Glass Options for Timber Lanterns
Chantilly
Charcoal
Contora
Digital
Everglade
Florielle
Mayflower
Minster
Oak
Pelerine
Tafetta
Warwick
Glass Brochures
Download Saint Gobain Glass Brochure
Download Pilkington Glass Brochure
Trade Timber Lanterns
We supply timber lanterns at trade prices, simply contact us with your project requirements and we'll let you know about the trade options available. We can supply in trade volumes (bulk volume per project) or bulk projects. If your project is on-going we can also supply with shorter lead times providing we are given notice in advance. Some of our clients include
Architects
Property Developers
Property Renovators
Installers
Commercial Businesses
Tradesmen
We frequently supply in bulk to businesses around the UK, we provide complete kits to be delivered to sites. Our kits are easy to assemble and come with complete assembly instructions.
Lead Time
Lead times vary from 4 weeks onwards, a member of our trade department can give you accurate lead times based on your project requirements.
Below is some of our colours and stains available. We offer over 100 different colours and variant stains. We also offer a colour matching service if you have specific requirements.
Oak Stains
Iroko
Mid Oak
Mahogany
Oak
Mid Oak
Spanish
Walnut
Idigbo Stains
Iroko
Mid Oak
Mahogany
Oak
Mid Oak
Spanish
Walnut
Sapele Stains
Iroko
Mid Oak
Mahogany
Oak
Mid Oak
Spanish
Walnut
Opaque Colours
Ash
Autumn
Bristle
Cadet
Calm
Ghost
Grove
Ivory
Lawn
lilly
Marsh
Milk
Mist
Moon
Polar
Porcelain
Powder Blue
Sandscript
Sea Green
Seashell
Slate
Enquire
Simply call us on 0843 886 7949 or fill out the form to the right and a member of our team will call you back to discuss your requirements.
---
Our Timber Roof Lanterns
Our timbers are FSC sourced from healthy trees. The woods chosen are treated to ensure a long lifespan and to inhibit the growth of mould / rot, funghi and moss. Once the timber has been treated, it is generally painted in premium farrow and ball micro porous paints which allow the wood to breathe.
Our timber lanterns and timber rooflights are constructed using precision CNC machining and skilled craftsmen to assemble / tend to the product during manufacture. Each lantern is unique, styled and built to an exact specification for straightforward no hassle installation. Our timber roof lanterns effectively clip together and can be assembled quickly and easily thanks to the way they are designed.
In our joinery, our machinery manufactures with absolute precision and as each piece of wood is carved to the exact MM, it is then transferred onto following stages where the timber roof lantern begins to take shape. Once the expert craftsmen have finished with the lantern it is transferred to our own inhouse paint shop where high quality farrow and ball paints are used to finish the product. We can also provide wood stains including oak, sapele and idigbo.
The finials on our lanterns are generally manufactured in aluminium. We use an aluminium capping system which provides weatherproofing and uses a twin gasket system. The glass units used in our timber roof lanterns are argon filled and can come in single, double or triple glazed units (typically 28mm).
The timber rafters are generally 44mm wide, and the hips are 56mm wide. All the centre bosses on the lanterns are hand crafted which brings a traditional centre piece to every hip section. We use a mixture of plastic clips and timber dovetail systems to allow for easy assembly and installation of the timber lanterns.
Our timber roof lanterns can be made to measure in a variety of configurations and shapes from circular to domed, from architectural to cubed, rectangular and triangular. If your lantern is fitting an existing structure please provide us with the exact specifications when requesting a quote.
Here are prestige roof lanterns, we ensure every timber lantern meets and exceeds customers (both single and trade) expectations. Each lantern is designed in CAD prior to manufacture, CAD drawings will be provided detailing every aspect of the lantern and its construction.
Your timber lantern can come as a unit that's a roof only, or as a roof with side windows. Typical standard sizes range from 750 x 750 up to 3000 x 3000. The size of the lantern and the choice of design and glazed units will impact on how the unit is made and assembled. Heavier structures may require additional vertical or horizontal bars.
---
Maintenance
Timber lanterns are easy to maintain and have a relatively low maintenance schedule, learn more by reading our article on Maintaining Your Timber Roof Lantern.