Bespoke Roof Lanterns, Rooflights and Roof Windows
We are a specialist company that designs luxury, handcrafted hardwood roof lanterns, skylights, rooflights, conservation rooflights, energy efficient lantern windows and glass roof domes. We are renowned for our innovative and creative designs, making our products the choice for architects, builders & home owners over many years.
Our ranges, such as the Edwardian range come in a number of standard sizes with both unvented and vented options (side opening windows). Details of our ranges, their sizes, and also the prices can be found on the prices & sizes pages. We have among us, a team of specialist designers who, using the latest computer design technology, can produce designs for stunning architectural and curved products & roof windows to make a great addition to any room. Both the architectural and curved products are fast to fit, with minimal re-decoration required afterwards, for both professionals and competent DIYers. For further information and estimates on our timber or oak range please contact us direct.
Along with our sister company Country Hardwood, we manufacture a wide range of roof windows, lanterns & skylights each month, both as part of orangeries and as standalone items, and supplied to a wide range of customers including DIYers, builders and conservatory retail companies. When buying any bespoke roofing product from Prestige, you can be assured that we have the experience and expertise in design and manufacture necessary to deliver a high-quality product which is competitive on cost and easy to install. Our products also offer excellent thermal insulation helping to reduce heat loss and increase a properties thermal efficiency.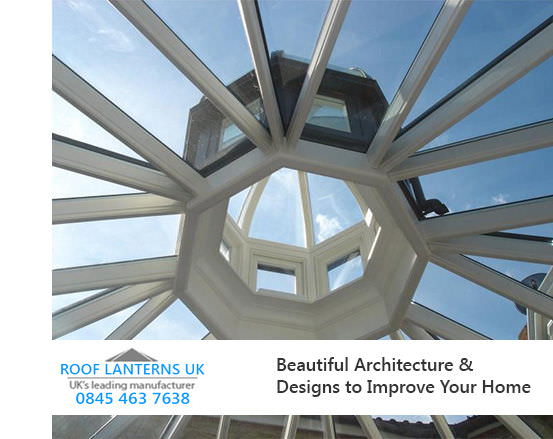 Ordering and Delivery
Ornamentation
Choose from a range of bespoke ornamentation to style your product including finials and cresting options. We offer a range of balls, spikes, concave and fleur-de-lys styles which can add a visually appealing touch. You can also choose from a range of bespoke ironmongery for hangers, handles and rolling mechanisms or
Roof Lantern & Light Options
Our roof products are completely customisable. Choose from timber, oak, pine or aluminium, choose your glazing options (we offer single, double and triple glazing units for roof lights, windows and lanterns. Considerations should also be made for the specification of glass used and ventilation options. You can also choose from a whole range of premium Farrow and Ball paint colours / RAS Colours or choose from a number of natural wood stains. When it comes to window or lantern sizes, we can manufacture to any size providing that structural calculations are
Buy Direct from Us
We are a joinery, all of our lanterns, roof windows and rooflights are manufactured by us. When you buy from us you buy direct, other businesses may use Fakro, Dormer, Fenstro, RoofLite, Roto or Velux for supplies.
DIY Kits
We have found over the past few years that the hardwood DIY roof lantern market has grown considerably, with more people than ever selecting the self-build option for their roof lantern needs. This approach can help you ensure that you know exactly what you're getting, while saving you money. With a DIY range of windows, doors, conservatories and roof lanterns; Prestige Roof Lanterns has the complete package for the avid
Short Lead Times & Beautiful Design
We have introduced a fast-track system for its standard sizes, allowing the client to order a product and have it delivered from point of confirmed survey in just 2 weeks. This means that any bespoke lantern size or shape can be produced very quickly, allowing rooms to be sealed and dry, making it possible to move a build project along swiftly. Please contact us to discuss our fast-track production system, or for any other enquiries. We also utilise a team of professionally qualified installers to install our products, or you can order the product as a DIY Kit (we manufacture and supply Orangery and Conservatory kits) too). We can also provide quotations for trade customers, architects, home builders, property renovators & businesses / individuals with property portfolios.
What is a Roof Light
A rooflight or roof light is an architectural structure that allows natural light to enter through a roof space. The structure of a roof light is not too dissimilar to that of a roof
What is a Roof Lantern
A roof lantern is a strucure that allows natural light to enter via a roofspace. It can also be classed as a daylighting cupola architectural element. A roof lantern's structure can be customised in either flat or pitched configurations. They can also be used on flat roof
Add a beautiful structure to your property, let more light and heat in and make your living space feel brighter and bigger. Our lanterns are made from scratch and are made to measure, we can install or provide a DIY roof window kit.
If you would like to discuss your project requirements with us then why not give us a call on 0843 886 7945
Request a Call Back


One good reason you should choose us is for our product quality and attention to detail. We ensure every produfct that leaves the factory is quality checked and has no issues. We also have friendly and comprehensive customer service ensuring all your queries and questions are answered.
We supply to trade, builders, home builders, property renovators and individuals. We also offer mainland UK delivery on all our products.
We are a part of the Country Hardwood Group. Our group also supplies Conservatories, Orangeries, Bi fold Doors and Timber Windows.
In January, we can all feel a little bit under the weather. We've just had the exciting festivities associated with Christmas and summer seems to be a long way away. We spend a lot of our time cold, damp and looking out for frost and ice on the......

At Prestige Roof Lanterns UK, we design and manufacture luxury and bespoke roof lanterns that undoubtedly bring more natural light into your home, giving it a much brighter and spacious interior. A roof lantern is, undoubtedly, one of the most......

Choose from a range of bespoke ornamentation to style your product including finials and cresting options. We offer a range of balls, spikes, concave and fleur-de-lys styles which can add a visually appealing touch. You can also choose from a range......