"Furniture Grade Oak Hardwood Roof Lanterns from £1050"
Let the light flood into your home with a stunning oak roof lantern – they're a striking addition to any home. Made in our UK joinery, each wooden lantern is furniture grade and obtained from FSC-friendly sources. We thoroughly inspect each piece of oak wood prior to being selected for machining.
Oak Roof Lantern Gallery
Browse our gallery of beautiful hardwood oak roof lanterns. Below are some previews of lanterns we have manufactured and supplied to customers.
Oak is a premium, upmarket wood that adds a real touch of elegance and style to a property. Oak is used on more traditional and older properties. It can be used on modern and contemporary properties too with the right paint / colour scheme. Above are just a handful of the hundreds of roof lanterns that we supply across the UK each year.
Oak Roof Lantern Costs
Oak Roof Lanterns start from just £1050 and vary depending on size, style and shape specifications. Costs are dependant on such a wide array of factors that we generally give an accurate costing during a free quotation. If you get in contact with us and provide us with an overview of what you are looking for in an oak roof lanterns and we'll give you an accurate quote. Below are some guideline prices.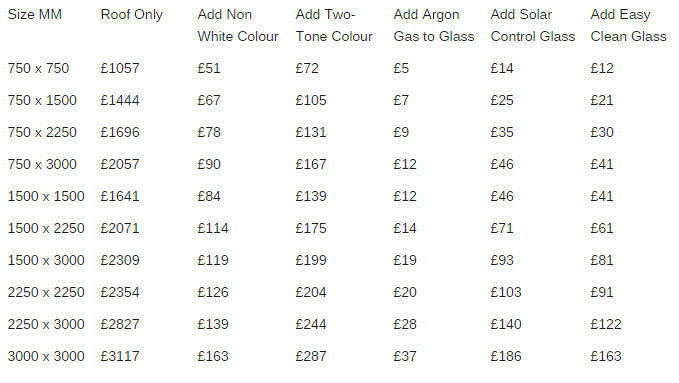 Specifications
Below are the top level specifications for our manufactured oak roof lanterns. Specifications can vary depending on customer preference, we offer a wide arrange of configurations for your lantern choice.
Available in all standard sizes and non standard sizes (750mm x 750mm smallest)
Made from FSC sourced timbers that have been treated
Colour matching service and wide colour range from Farrow & Ball
Rafter sections from 44mm, Hips from 56mm in width
Roman Ogee3 detail moulded into undersides of timber section
Timber Dovetail Systems
Painted with Microporous Paint
Wide Choice of Finials and Crestings
Choice of Glazing Options (Standard 28mm Double Glazed Argon Filled Units) with U-Value of 1.1W/m.
Optional Self Cleaning Glass
Range of Blinds & Solar Control units
Brochures
Download Gaskets Specification Brochure
Download Saint Gobain Glass Brochure
Download Pilkington Glass Brochure
Download Ironmongery Options Brochure
Glass Options for Oak Lanterns
Chantilly
Charcoal
Contora
Digital
Everglade
Florielle
Mayflower
Minster
Oak
Pelerine
Tafetta
Warwick
Glass Brochures
Download Saint Gobain Glass Brochure
Download Pilkington Glass Brochure
Trade Oak Lanterns
Are you a trader, installer, property renovator or achitect? We supply to customers, businesses and traders. We can supply at trade price depending on your project. Please contact a member of our trade team to discuss your bulk requirements on 0843 886 7949. Our most common customers for oak roof lanterns include:
Architects
Property Developers
Property Renovators
Installers
Commercial Businesses
Tradesmen
We frequently supply in bulk to businesses around the UK, we provide complete kits to be delivered to sites. Our kits are easy to assemble and come with complete assembly instructions.
Lead Time
Lead times vary from 4 weeks onwards, a member of our trade department can give you accurate lead times based on your project requirements.
Below is some of our colours and stains available. We offer over 100 different colours and variant stains. We also offer a colour matching service if you have specific requirements.
Oak Stains
Iroko
Mid Oak
Mahogany
Oak
Mid Oak
Spanish
Walnut
Idigbo Stains
Iroko
Mid Oak
Mahogany
Oak
Mid Oak
Spanish
Walnut
Sapele Stains
Iroko
Mid Oak
Mahogany
Oak
Mid Oak
Spanish
Walnut
Opaque Colours
Ash
Autumn
Bristle
Cadet
Calm
Ghost
Grove
Ivory
Lawn
lilly
Marsh
Milk
Mist
Moon
Polar
Porcelain
Powder Blue
Sandscript
Sea Green
Seashell
Slate
Enquire
Simply call us on 0843 886 7949 or fill out the form to the right and a member of our team will call you back to discuss your requirements.
---
How Are Oak Roof Lanterns Made?
Your lantern will be made using premium oak in our joinery after undergoing planning and CAD diagrams. The CNC machinery we use will manufacture to the exact MM ensuring your product is easy to assemble and meets the exact requirements at the outset.
Once the oak lantern has been manufactured, it'll go through various refinery stages with our expert craftsmen team who will deal with the additional configuration and design of the lantern. Once the lantern has been completed, it will be sent to our internal paint shop to be treated and painted using ultra high-quality farrow and ball microporous paints.
Our traditional roof lanterns are made using advanced manufacturing processes, but first, our designers / architectural and structural engineers construct the lantern in 3D using CAD to calculate structural integrity based on the features of the lantern.
Once the lantern design has been approved the manufacturing process begins. When the lantern has been completed and is ready to send out it is carefully wrapped and protected so that on delivery and installation no further painting is required.
What Are the Benefits of Oak Skylights?
Traditional roof lanterns are a rooftop architectural structure that allow light to flood into a property. While some refer to them as timber roof lanterns, others name them wooden skylights.
Typically, hardwood roof lanterns can be seen as part of the structure of orangeries and conservatories in modern architecture although they're usually incorporated into a contemporary design, particularly in bigger properties where the middle of the house is lacking in natural light.
Roof lanterns are a functional part of a home, as they allow natural light in where it would otherwise be difficult to integrate into a home or commercial property. The more light that enters a room, the less likely a person is to suffer from issues like seasonal affective disorder or depression.
Roof lantern skylights, if strategically fitted, can cut electricity bills down, especially in the summer months. Also, these structures offer full privacy, particularly when properties are built in close proximity to each other. They enable homeowners and workers to enjoy natural light streaming in without compromising on their privacy.
Another benefit of roof lantern lights is their ability to ventilate a room since they normally have two panels which open much like a window. Coming from above, fumes from the street aren't being blown directly into a property.
Oak Roof Lanterns Sizes
Your oak roof lantern can come in a wide variety of sizes and shapes; we provide all standard and non-standard sizes from 750 x 750 to 3000 x 3000. We make lanterns to measure, so if your oak roof lantern has to be a set size for a project or to fit an existing structure then we can help.
What Shapes Are Available?
Common shapes for our oak lanterns include circular, domed, rectangular, square and triangular. Of course, we can manufacture any shape and size in our joinery, so why not contact us to discuss your requirements to see how we can help.
Choosing your style, size and colour is just one part of choosing a lantern. Other considerations for your oak lantern include choosing whether the lantern is to act as a roof only, or if it requires opening side windows. Another consideration is the rafter sizes, ornamentation, roman ogee's,
ironmongery for any window handles and more.
Timber Roof Lanterns Features
All of our units come with argon filled double glazed units, however, we do offer single and triple glazed options. Choose from Pilkington Activ glass or Saint Gobain. Each glass manufacturer offers a range of different glass types/styles.
Choose from roof vents, rain and temperature sensors for vents, opening or dummy casements, finials (ball or Fleur-de-leys), pendants and more. Literally, customise every aspect of your oak roof lantern with prestige.
We use an aluminium capping system which provides weatherproofing and uses a twin gasket system. We provide a timber trim which sits on top of the glass at the ridge apex which is usually dressed with lead, this provides additional weatherproofing for the lantern.
We provide oak roof lanterns to both single customers, traders, installers, businesses and developers/property developers. If you would like more information, get in contact with us today to discuss your oak lantern requirements.